What does digitalsanskritguru stand for?
Digital Sanskrit Guru Stands for persona based personalised learning offered by Vyoma Linguistic Labs Foundation.
Vyoma offers digital Sanskrit learning for interested learners at all levels. This learning is in the form of Courses, Self- learning tools (interchangeably called products here) and books.
Digital Sanskrit Guru is a one stop place forgetting to know about the products created by Vyoma team.
What is the name of company which has created these tools and products?
Vyoma Linguistic Labs Foundation, a non-profit organisation has created these tools and products.
Where is Vyoma located?
We are a global organisation and we have our office in Bengaluru.
Our registered office address is as below:
# 155, GKW Layout, 4th Cross,
Vijayanagar, Bangalore 560040.
How do we know more about the organisation?
Who are the people behind these products?
Vyoma is professionally and passionately run by a group of Sanskrit Scholars, technologists, project management professionals, subject matter experts, teachers, academicians, volunteers and freelancers.
You can meet the team here: https://www.vyomalabs.in/aboutus/
Do you have a company brochure?
We have a corporate presentation that speaks about our seva. The same can be accessed here.
Where do I access the courses that Vyoma Labs have?
Product and Learning Related:
What is the path for Sanskrit Learning?
We offer standard learning paths and customized learning paths related to sanskrit to our learners.
Please write to support@vyomalabs.in 
What is the qualification I should have before I can use these product?
Though the products have a target audience when they have been designed; anyone can learn Sanskrit by using these products.
Can I speak fluently in Sanskrit after I study this?
Yes; you may with practice.
Will I be able to understand scriptures/Upanishads after I study this?
In order to begin to understand our scriptures; we need to have a learning path which consists of products and courses.
We have a combo pack of products that will initiate you in this process and we can also suggest courses (once you write an email) that you may take which will make you competent to read and commence understanding of the scriptures.
Which are the combos that are available?
Recognizing the need and based on popular demand; we have the following combos:
1. Get relieved from stress and attain peace of mind with Sanskrit.
2. Improve concentration and memory with Sanskrit.
3. Learn basic Sanskrit Shlokas and understand.
4. Learn Sanskrit from basic (step by step to approach).
5. Learn Sanskrit Grammar.
6. Sanskrit language pack + Grammar combo.
Which are the languages in which these products are available?
Most of the products have teaching in Sanskrit – English. Currently except Learn Sanskrit Level 1, Vocabulary Builder we do not have Hindi versions of our products.
How do I access and use these products? What are the different modes available?
Audio CD:
If you want to enjoy the audio, this may be the product type for you.
Please check if you have a PC, Laptop, Car audio player, home player if you want to use this product. The audio files are in MP3 format.
Multimedia CD:
If you want to enjoy learning on a computer; this may be the product for you.
You will need a PC, Laptop to access the same.
Please check the system requirements of the product before you place the order.
Once the order received the CD will be forwarded through courier/post.
This CD product is available only in INDIA.
Downloadable Version:
If you do not have a CD drive and do not wish to use the internet this may be the preferred option for you.
Downloadable version of the product is a product that can be downloaded to the system once and later can be used without the internet.
Upon receiving the order, the download link will be forwarded to the email id furnished in the order page.
Once the link received and clicked upon, the product may be downloaded in Winzip format.
Extract the product from the WinZip format and enjoy it!!
Web – version:
If you have unlimited internet access at your place and on the GO this may be the product you should be using.
Once the order is received, the link for website login and login credentials will be forwarded through the mail.
Web-version can be accessed on all operating systems/platforms.
In case you forget your password; please use the forgot password option OR reach out to our customer Seva team.
USB:
The product is in the form of USB stick with Vyoma Logo and branding.
You will need a PC, Laptop.
The USB is locked and contents cannot be copied.
The USB works on Windows Operating System only.
The USB contents, details, installation instructions along with the user name and password are found in the READ ME FILE.
Once the order is received the product will be sent  through courier/post.
Available in India & US only.
Do you give Certificates once we finish learning with these products?
The products in digital Sanskrit guru are meant for self-learning. However if a student is desirous of receiving a certificate; he has to take an assessment.
For requesting assessments please write to sanskritfromhome@vyomalabs.in OR support@vyomalabs.in
Where can I have a look at the demo of the products?
Demo of all products are available in the respective product page. Please go through the demo and satisfy yourself with the product content before you buy these products.
For booking a demo with our sales representative, please write to support@vyomalabs.in
How do I buy these products?
What are the forms of payment you accept?
All payments are processed by our partnered Payment Gateway (Razorpay, EBS, etc). They offer various payment options, including, Google Pay, PayTM, Net Banking, UPI, Credit Card, Debit Card, etc.
NEFT Transfer – Direct to Bank:
Please find the below-mentioned bank details for NEFT transfer:
Beneficiary Name: Vyoma Linguistic Labs Foundation
Current Account Number: 233109000187409
IFSC code: CIUB000233
Cheques/DD:
Cheque to be drawn in favour of Vyoma Linguistic Labs Foundation and the same to be forwarded to below mentioned address:
Vyoma Linguistic Labs Foundation
# 155, GKW Layout, 4th Cross,
Vijayanagar, Bangalore 560040.
I do not have a credit card. How do I buy your products?
The product can be purchased by using online payment gatway or using UPI or NEFT Transfer into account.
Do you have any outlet for your product? Where is it available?
The products are available at our working office:
Vyoma Linguistic Labs Foundation,
No 54, 7th cross, 2nd main,
Basaveshwaralayout, Chandra layout,
Vijayanagar, Bangalore 560040
Is your product available outside India? If so where?
Our products are available in the form of web and downloadable versions. Hence people outside India can buy these versions and use them.
How do people outside India buy your product?
People outside India can purchase the downloadable and web versions of the product by using the payment gateway in this site.
(Currently being enabled).
Wire transfer can be done to our Indian bank account also.
If you have trouble in achieving this, please write to support@vyomalabs.in.
I have a MAC system . Will all your products work on MAC ?
Our products have been developed for the WINDOWS environment. However the all "Web Versions" will work on MAC also. All audio and video products shall work on MAC also. For a detailed list of products that work on MAC please refer the Product catalogue here.
I do not have a computer at home. Can I use your product?
Our products as explained above require computer, smart mobile to access the same. Some of the products are visual and interactive, some are audio based, some are video based. Please refer to our master table of products and the product page to know specific details of product and their usage.
Do I need internet connection to access your products?
Web version products require internet. Downloadable products require internet to download once.
I do not have access to internet. How do I use your products?
Please use the USB version of our products to use these offline. The cost of USB must be borne.
Alternatively, you could buy the downloadable version; download with internet once and further use the same offline.
I do not have a computer at all. I have a smart phone. How do I make use of Vyoma digital learning materials?
Please click here to see about our m-learning.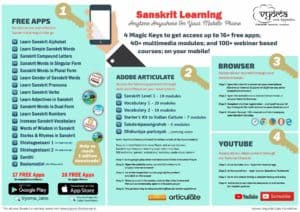 Can I copy the USB / CD into another system?
The products are in a format that can't be copied. When the CD/ USB is there you can play the same. If you need a USB free or a CD free product you must go for web version or downloadable version.
Do all USB products and USB PSC work on MAC system? What do we do if we need to use the products that do not work on MAC?
Our USB products are locked and shall work only on WINDOWS. In order to use the same on MAC you have to buy the web version.
If there are any problems with the CD product OR USB what should we do?
Kindly write a mail to support@vyomalabs.in
The defect product will be replaced by seva team.
If there will be any technical issues with your system. The web version or downloadable version product access will be given.
If you're unsatisfied with our product, write a mail to support@vyomalabs.in . The full product cost will be refunded.
Do you have a chat support?
Yes. The chat support will be active during working hours 10am to 6pm (IST).
How can I write a review for the product?
The review for the products can be written in the product page.
Do I need to log in and have an account with you on this page to buy the products?
Not necessary. You can buy the product as a guest. However if you leave your account details with us we shall be able to send an email when a new product arrives and any updates if you wish to.
How long will it take for the order to be fulfilled?
It normally takes 24-48 working hours to fulfil the orders (despatch) in case of physical orders. It may take 4-5 working days to reach you.
In case of web and downloadable orders we shall endeavour to fulfil all orders within 24 working hours.
How to download and extract the downloadable link after the purchase?
Please find the pdf to know the steps to download and extract the  downloadable link: click here